Description
Meant to be worn as soon as possible after exercise.
The PRORECUP® ELITE recovery sock is a compression product that combines the technical features of intelligent textiles with the scientific validations from the BV Sport patent.
This recovery sock is made using a special knitting technique and compression pressure calibrated on numerous amateur and professional athletes since 1998.

PRESENTATION OF PRORECUP ELITE EVO RECOVERY SOCK
BV SPORT's crown jewel since 1998, and undoubtedly the most technical product, this recovery sock is made using a special knitting technique and pressure calibrated on high-level athletes for a number of years.
It is used and praised by over 10,000 high-level athletes and professional players, and the number of users continues to increase at all levels every day.
The adapted compression effect on the CALF, which really is a vascular and muscular sponge, facilitates the rapid elimination of poorly oxygenated and toxin-filled venous blood (lactic acid, free radicals, CO2…) Your muscle, tendon and ligament fibres will very quickly be fuelled with oxygenated blood, thereby enabling you to recover as quickly as possible in order to complete your training sessions and competitions one after the other in excellent conditions.
TECHNICAL FEATURES : 
SELECTIVE COMPRESSION Adapted pressure to the calf. Fast and effective elimination of toxins
CALF SUPPORTReinforced knit at the calf. Improves muscular support at the calf and reduces parasitic oscillatory movements and vibrations, sources of muscular lesions and fatigue.
AERO TIBIAL WINDOWSA specific lighter mesh on the shins. Protects the sensitive pre-tibial structures: Periosteum, superficial nerves and microcirculation
SOLEUS PROTECT SYSTEMSupports the Achilles tendon. Improves the tone of the stabilising calf muscles and reduces extraneous vibrations and oscillations.
ASYMETRIC G-CONCEPTAsymmetric Booster. It fits as close as possible to the anatomy of the calf's physiology. Optimises the performance of the propulsive calf muscles.
MICROFIBRE SENSIL® INNERGY
Improve microcirculation, enhances performances, antibacterial, U.V protection.
WIDE BORDER
Helps prevent tightness whilst maintaining blood flow
SCIENTIFIC CONCEPTOur compression support ranges are manufactured using circular knitting machines. This technique enables us to control the pressure and cut more accurately.
COMPRESSION SELECTIVE XPERIENCE
The BV SPORT research and development centre, with its many scientific studies, proved that the pressure put on the lower limbs varies depending on the type and thickness of the living biological tissues of which they are composed. These tissues act as a pressure shock absorber (muscles and fat) or are otherwise incompressible (bones and, to a lesser extent, tendons and nerves).
These innovative factors have enabled us to design meshes of variable levels of rigidity (flexible/semi-rigid/rigid), which have been incorporated into the production of our compression ranges (Booster and ProRecup) since 2004.
Selective compression respects athletes' anatomy and physiology, optimises muscular biomechanics during movement, improves venous return, limits extraneous vibrations and oscillations, decreases the risk of stiffness and DOMS and raises the fatigue threshold.
HOW TO USE IT : 
The PRORecup Elite EVO range must be worn as soon as possible after each exercise session (training, match or competition) for a minimum of 2 hours. You can wear the PRORecup Elite for longer, particularly during physical preparations or after long exercise sessions.
The PRORecup Elite EVO range is an essential addition to other recovery techniques as it extends their beneficial effects (massages, stretching, electrostimulation and pressotherapy…).
CONTRAINDICATIONS :
– In cas of venous pathology, contact your doctor.
– Do not wear during sleep.
– Do not wear the ProRecup range during a sporting activity.
SIZING CHARTS :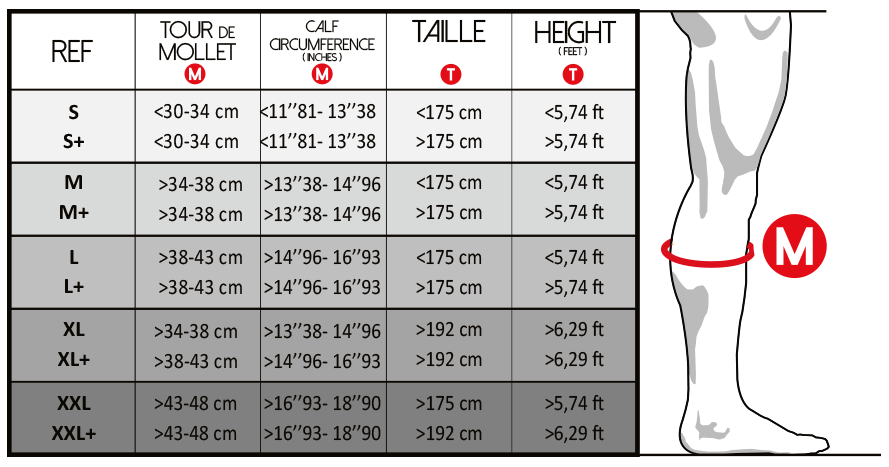 MANUFACTURING ORIGIN : FRANCE
COMPOSITION : 77% POLYAMIDE / 23% ELASTHANNE