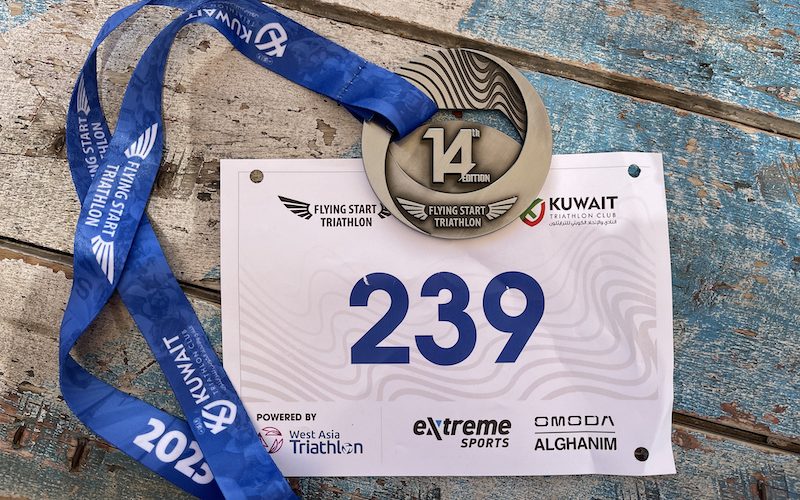 Flying Visit: Flying Start
It was a very late decision last week to fly to Kuwait for the WTS West Asia Championships in Kuwait City, otherwise known as the Flying Start triathlon. I have never had the privilege of racing in Kuwait so an opportunity to tick that one off the bucket list! Also it would be my first sprint race of the season so another reason to give it a go. There are plenty of daily flights to Kuwait so the logistics were not difficult. It proved a good opportunity to catch up with some friends from around the region.
Compared to the events we have in the UAE this is a relative small race with approx. 190 people. Notwithstanding that is was very professionally organized.
The elite male and female races were set off before the Open Sprint and Super sprint events. Simple 750 swim (actually nearer 850m) in slightly chilly water and was wondering why so few did not take the option to swim in a wet suit. Beautiful day and perfect temperatures. 400m transition between swim and bike and then out onto pancake flat closed off roads for 2 x 10km loops. Decided to give the road bike a spin. It was supposed to be a non drafting race, but that just never happens does it? All I can say is that I didn't draft. Run was an easy flat 2.5 km out and back and probably my best run of the season. Those Tuesday morning interval sessions on the beach track providing beneficial.
Great to see athletes from Syria, Palestine, Iraq, Jordan and Lebanon competing with those from Bahrain, Saudi, UAE, Oman and Kuwait.
No age group prizes but a medal the weight of an ingot. Very happy with the end result. I am fairly sure I was the first Brit home.
Posted on 19th Mar 2023