About Us
Sported was born from a conversation that took place over a lunch with my friend Andrew Leity – "Matey Leity".  It was Andrew who observed that there was no one master race calendar that put all the events and races in one place for athletes.  Instead athletes had to visit a number of different sites.  We were already thinking about a multi product website to incorporate our new brand Naked.  Next we realized there is no one central list of coaches… Sported was born. We hope you like it!
Vision
To be the leading on-line destination for athletes in the GCC for information and best-in-class-products.
Mission
To provide an invaluable resource for training, racing and recovery, through active collaboration with fellow athletes, experts and professionals in their field. To encourage an active lifestyle.
Values
To be guided by doing the right thing at all times for our customers, fellow athletes, partners and the brands we represent.
We believe in the products and services we offer to our customers.
To minimize any negative impact to our environment wherever possible.
To be authentic, inclusive and transparent.
To maintain a healthy work-life balance.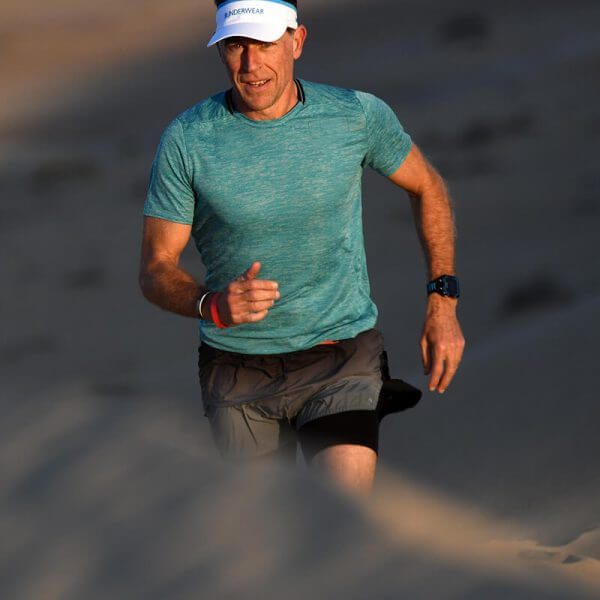 David, co-owner
I have spent thirty years working in the financial services jungle: banking; insurance and finance, during that time I have run large businesses and set up new companies. I have always been involved with sport as pleasure and pastime whether that be cricket, tennis, football or athletics. I didn't start triathlon until I was well into my forties. I have always enjoyed both the competition and camaraderie of sports. Having moved into 'retirement', setting up a sports business allows me the opportunity of combining my passion for all things sporty and channeling my entrepreneurial ideas. I am passionate about excellence in customer service, building sustainable businesses and innovation.
As you may have seen, Rianca and I like to be involved in our unique sporting community here in the UAE. So if you have a suggestion on how to improve this site then please drop us a line.
Rianca, co-owner
My early adult years were spent as a nurse and educator in the nursing profession both in schools and hospitals. Apart from being a little ballerina in my childhood I was never much into sport and found the competition element very intimidating. In my forties I started to focus more on sport, became passionate about becoming fit and trained as a fitness and yoga instructor teaching group classes. In the last decade mainly because of rehab of my own back injuries I retrained as a pilates instructor.
Living with a fairly obsessed triathlete and ironman wannabe you have to either beat them or join them and my way of doing this was by working at events with Raceme. I love the community feeling and buzz at sporting events.
I am not a real sales person.  However I am passionate about a great customer service and doing the right thing by people be it when teaching pilates in the past, or now in managing our business together with our team.  I love to learn in the field of sport and health and to share knowledge that will benefit others. Our sported website will hopefully provide a great service and I like it because it is not just a sales platform.
When you see us around come and have a chat!
Nas, marketing, shop & events
I had a beautiful journey from road running to triathlon and now trail running. Also on a professional level from FMCG marketing to marketing in sports. I love working for Sported because I can relate to our customers and their journey. I can understand what they go through and can give them genuine advice.
Farrah, administration & shop
Joined in April 2021, the concept of being in the sports industry was something very new. I've worked in retail, import and distribution of food products for 13 years but having shifted to a new field has been really exciting for me. There's a lot of new things to learn each day, new opportunities to find, new friends to keep.
Being a mom of three, my kids are the only ones keeping me active. But who knows, being a part of the Sported team, I might try to do some running soon.
Chaithanya, finance & shop
Born and brought up in Mangalore in the south of India and never having left my city, I moved to Dubai in hopes of new adventures.
My love for numbers is what led me to choose my career as an accountant and using those skills within a small but growing business is very exciting.
As a sports enthusiast, working in a sports related business is like a dream come true. The world of sports is always exciting, whether you're participating, cheering in the stands or even working behind the scenes. Although triathlon and multi sports are new to me, I am very excited to learn everything about it and be a part of the Sported family.
Paul, retail & events
I have worked in retail and events for decades covering many international brands ranging from fashion to sports and beauty, across the UK, Asia and The Middle East in medium to large businesses and department stores.
Working for Sported is a lifestyle change to say the least. I had enough of the more corporate environment and getting involved with a small business such as Sported, working with a small team, where I can use my experience in a very hands on way is just what I wanted at this time in my life.
My personal life revolves around sport mainly focussing on ultra and multi stage trail running these days with a marathon or half marathon thrown in at times and in the past 70.3 triathlons.
Tom, B2B
Coming from a rugby background, the drive to push myself has been instilled in me since a young age, and with my dad already an Ironman, it was only a matter of time until I joined him on the hallowed red carpet. Two shoulder reconstructions later, and needing an outlet, I dove headfirst into my first Ironman 70.3 in Majorca. Fully bitten by the triathlon bug, I completed IM Barcelona and am now eyeing my first world championship slot in 2023.
As an active member of Tri-Dubai and an aspiring coach, you'll see me rocking a Blue70 Helix in the ocean or flying past on my yellow bike and runners.
After driving my partner nuts for years with constant triathlon chatter, I've fallen on my feet with a job where I can talk about triathlon, cycling, and gear all day long!