About Us
Sported was born from a conversation that took place over a lunch with my friend Andrew Leity – 'Matey Leity'. It was Andrew who observed that there was no one master race calendar that put all the events and races in one place for athletes. Instead athletes had to visit a number of different sites. We were already thinking about a multi product website to incorporate our new brand Naked. Next we realized there is no one central list of coaches …… Sported was born. We hope you like it!
Vision
To be the leading on-line destination for athletes in the GCC for information and best-in-class-products.
Mission
To provide an invaluable resource for training, racing and recovery, through active collaboration with fellow athletes, experts and professionals in their field. To encourage an active lifestyle.
Values
To be guided by doing the right thing at all times for our customers, fellow athletes, partners and the brands we represent.
We believe in the products and services we offer to our customers.
To minimize any negative impact to our environment wherever possible.
To be authentic, inclusive and transparent.
To maintain a healthy work-life balance.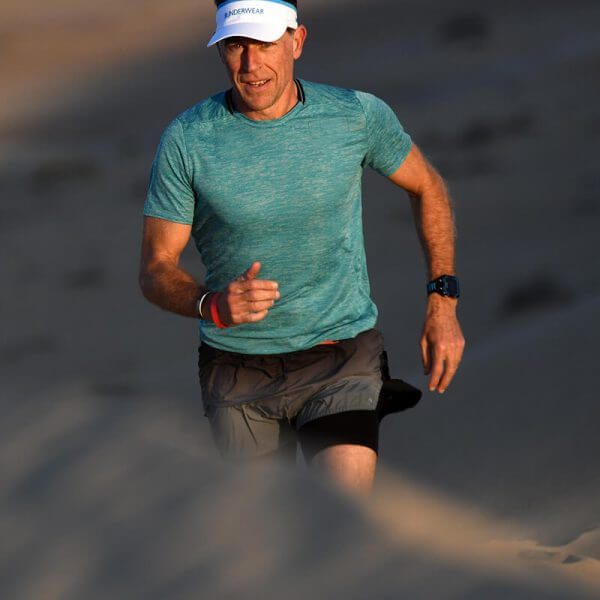 David
I have spent thirty years working in the financial services jungle: banking; insurance and finance, during that time I have run large businesses and set up new companies. I have always been involved with sport as pleasure and pastime whether that be cricket, tennis, football or athletics. I didn't start triathlon until I was well into my forties. I have always enjoyed both the competition and camaraderie of sports. Having moved into 'retirement', setting up a sports business allows me the opportunity of combining my passion for all things sporty and channeling my entrepreneurial ideas. I am passionate about excellence in customer service, building sustainable businesses and innovation.
As you may have seen, Rianca and I like to be involved in our unique sporting community here in the UAE. So if you have a suggestion on how to improve this site then please drop us a line.
Rianca
My early adult years were spent as a nurse and educator in the nursing profession both in schools and hospitals. Apart from being a little ballerina in my childhood I was never much into sport and found the competition element very intimidating. In my forties I started to focus more on sport, became passionate about becoming fit and trained as a fitness and yoga instructor teaching group classes. In the last decade mainly because of rehab of my own back injuries I retrained as a pilates instructor.
Living with a fairly obsessed triathlete and ironman wannabe you have to either beat them or join them and my way of doing this was by working at events with Raceme. I love the community feeling and buzz at sporting events.
I am not a real sales person.  However I am passionate about a great customer service and doing the right thing by people be it when teaching pilates in the past, or now in managing our business together with our team.  I love to learn in the field of sport and health and to share knowledge that will benefit others. Our sported website will hopefully provide a great service and I like it because it is not just a sales platform.
When you see us around come and have a chat!
Branka
I finished University of Economics in Ljubljana and worked in banking business for nearly 15 years. After moving to Dubai, I decided not to continue my career in banking and become a stay at home mom. Doing sports is a big part of my family's lifestyle. We all like spending time outdoors and be active in some sort of way. For me personally sports is as well a way to socialize, meet like-minded people and make friends. Dubai is such a fantastic place to do just that, with numerous Running, Cycling and Triathlon groups. Since my move, I've been actively involved in Running and Cycling. For three Years I was part of two women's cycling teams and competing in local Cycling Races. Through my love for sport I was given the opportunity to work with Secret Training and learn about sports nutrition.  Now I am excited to also be a part of the Sported Team providing athletes with information on all that Dubai has to offer.
Anne
Born in Switzerland, I quickly developed a passion for traveling. Shortly after completing university, I headed off for an eight month backpacking trip around the world. Experiencing a wide array of cultures and natural habitats shaped my interest for photography and interior design. It also influenced greatly my love for cooking and for healthy food.
Although I have a background in environmental sciences and business consulting, I reoriented my professional career to sports management 15 years ago. Since then, I have worked for the Swiss Triathlon Federation, for the International Climbing and Mountaineering Federation, for an ice hockey club, and for organisers of running races and multi-sport events. I am passionate about sports, with a special interest for triathlon, skiing and mountain biking. While living in Australia, I also learnt how to sail with my husband and conquered my fear of open waters.
After living in Ireland, Czech Republic, Australia and USA, I moved to Dubai 4 years ago and I have been immensely impressed with the outdoor opportunities the UAE offers. Hiking in the mountains, camping in the desert, cycling up to Jebel Jais or in Al Qudra, are a few examples of what I like doing in this part of the world.
I joined the Sported Team in March 2020 with the goal to expand the activities of Sported and to grow the sales of its related brands. I strongly believe in the business model of Sported, based on building and running a community by athletes for athletes.
Nas
I had a beautiful journey from road running to triathlon and now trail running. Also on a professional level from FMCG marketing to marketing in sports. I love working for Sported because I can relate to our customers and their journey. I can understand what they go through and can give them genuine advice.
Farrah
Sported's team newbie, that's me. Joined in April 2021, the concept of being in the sports industry was something very new. I've worked in retail, import and distribution of food products for 13 years but having shifted to a new field has been really exciting for me. There's a lot of new things to learn each day, new opportunities to find, new friends to keep.
Being a mom of three, my kids are the only ones keeping me active. But who knows, being a part of the Sported team, I might try to do some running soon.